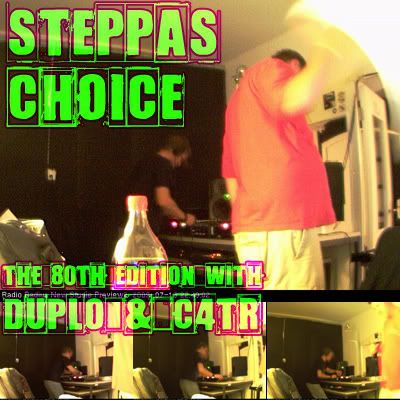 Broadcasted on the 13th of July


Steppas Choice 80: Duplo & C4TR

Duplo came to grace the show before his trip to Mexico and his travel through South America on a motorbike. First of all I was very happy to have Duplo once again behind the decks for this one and it's all ways very enjoyable with this crazy bass loving Diskoh Zombie Teenager! JA!
I was also happy about the fact that I got him before the big piggy flue mass hysteria, before Mexico in a good mood and constitution.
This Show will be the last one from Duplo for quiet a bit and therefore the fact that Duplo found a slot during his busy preparation for this Hell-of-a-Trip makes it even more appreciated! Big up Duplo!
Enjoy!


Download the Show:
Steppas Choice 80: Duplo & C4TR


I'm aware of the heavy delay between the original date of streaming and this post. The good thing about the delay is I can provide some updates from Duplo's Trip and how things are with him. So here we go for a very punctual accumulation of stories, rumours and facts from and about Duplo!


Diary of the South American EZ Rider Duplo
Duplo went to Mexico, sorry forgot the name of the city, to learn Spanish

Duplo's Guest brother or so was somehow into music and Duplo played a set somewhere

Duplo is still searching the forefront music

Nope, Duplo never got infected with Swine Flue or as I like to call it piggy flue

But Duplo got Dengue Fever and I would like to thank everyone that sended healthy and good vibes to him, before, during or after the Steppas Choice Show 96!

Duplo is now or soon off with his motorbike to explorer the myths of South America!

Duplo if you're reading this: any update, correction, picture,… is more than welcome!

For those that think that there's a mix (or two) missing between the
Steppas Choice 78
Show and this post, please check the following links:

Download the Show: Steppas Choice 79
Download the Show: Steppas Choice presents the Big Bad Bass BBQ


Greetings and may the Bass be with you!
C4TR