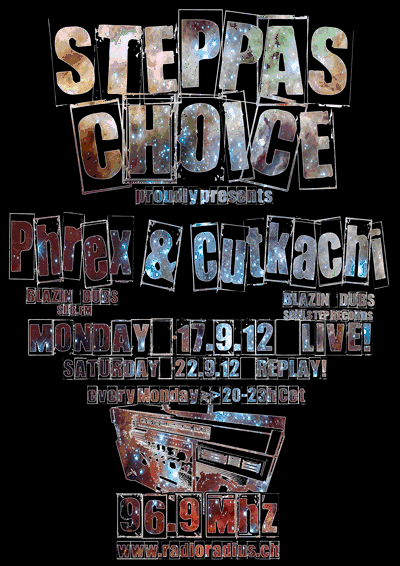 Replay >> Wiederholung
13.10.2012 >> 12-15h CET
Steppas Choice 249: Kolt', Guyus & C4TR
Originally Streamed on the 08.10.2012
Check out:
Kolt's Audio Blog
Unreleased Kollektive Homepage
DubExMachina Homepage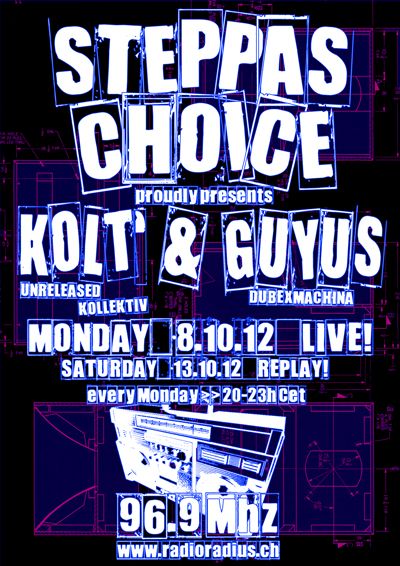 This Replay contains:
Kolt' & Guyus
Another big one for the fourth Instalment of Steppas Choice on FM is going take place this Monday evening!
Both of them are well known in the scene and have been infected with Bass since a decade,
both of them mastered the art of switching between styles during a set in a miraculous way and
both of them are members of legendary crews
Kolt'
, who's gonna open the night, is a foundation Steppa, a subbass addict since the early days. He is around since the earliest Dubstep Radio Shows on Radio Radius, he played tons of sets at different parties, from very small to rather big, to put it short: Kolt' is one of the most active and most forward thinking Bassaddict that I know. Together with his
Unreleased Kollektiv
he's a force to reckon with!
Guyus
, who completely blasted me away with
his set at GetDarker
, is also making waves in the scene since day dot. Organising Parties in Basel in the early days and nowadays with New.com as
DubExMachina
, Guyus is a busy Soundbwoy. Always wanted them DubExMachina Guys over in the show – even more after the before mentioned GetDarker Set! So finally here we are: Get ready for Guyus! Big Up DubExMachina!
check:
DubstepForum.ch