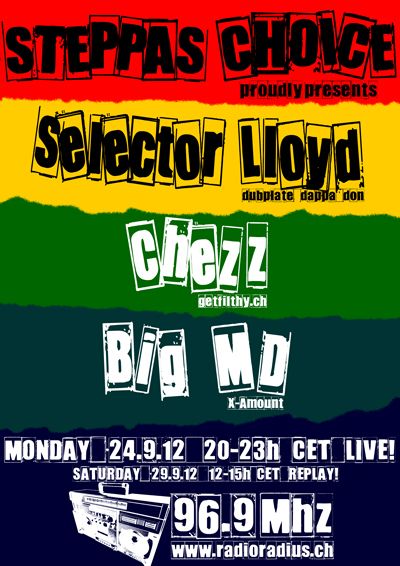 Tonight:
Selector Lloyd, Chezz, Big MD & C4TR
Tonight we got some really heavy weight DJs to serve the beloved low down frequencies!
Selector Lloyd
- Dubplate Dappa Don & Living Legend - will serve the finest Dub / Reggae and thereabouts from the backyards of Kingston / Jamaica to the grimey suburbs of the UK! Expect a wicked selection!
Chezz
- Headhoncho of the GetFilthy.ch Crew & long time Bass Addict - will showcase his definition of Dubstep & Bass-Driven Music. He can throwback to some heavy gems and productions from a wide range of Bassheads. You might even here stuff that he will release on his own imprint GetFilthy Digital!
Big MD
- Bass Enthusiast and founder of the X-Amount Crew - will showcase why he's running Zurich on a regular Base! All I can say is he can play a set covering all the steps it took to get from UK Garage / 2 Step to Dubstep. Although he still doesn't believe that there's a link between House / Chicago House and UK Garage.... ; ))
So hope to see you on the shoutbox! and make sure you will be logged in and logged on!!
...and don't forget to tell a friend to tell a friend to tell a friend!
check:
DubstepForum.ch