Steppas Choice 169: DJ Taiken & C4TR
Broadcasted on the 28th of March
It's a pleasure to welcome a new breed in the show; second one this year after Big MD. And it's even a bigger pleasure to me because he's hailing from my origins the east of Switzerland. DJ Taiken, representing
UphillProjects
and hailing from St. Gallen came over to presents us what he calls Dubstep. I can tell you it was serious bass!
He was also the first to experience the new interview form that I set up and which every DJ is requested to fill out! Just thought would be nice to know where they come from, what the feel and foremost the ultimate question:
What is this thing called Dubstep in their opinion?
And since this is the reason to exist for Steppas Choice I stay curious, curious in what Bass will bring next? Progression / Evolution / Mutation?
Here comes Taiken's Explanation in Interview form and as podcast!
Enjoy the experience!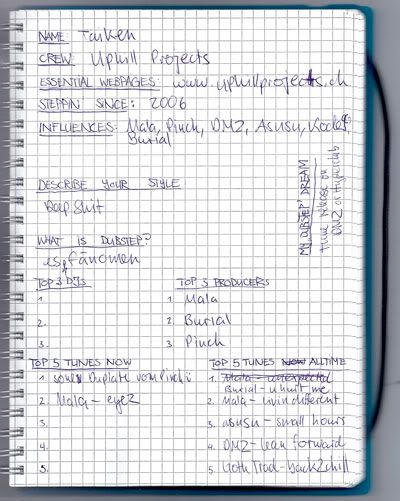 Click here for a bigger picture
Essential Linkage:
www.uphillprojects.ch
Check Dj Taiken Live @ Steppas Choice on the 20th of June
www.radioradius.ch
Bass bless'
C4TR